Most people connect Mykonos with its gorgeous beaches and vibrant summertime scene. But there's also a calmer, more peaceful aspect to this Greek island that comes to life in the winter, which makes Mykonos a magical place to visit even in December. This is the reason that so many tourists decide to visit this undiscovered gem at this time of year. You may escape the heat and crowds while still taking advantage of all the benefits and the area's natural beauty.
In this blog post, we have mentioned the Mykonos weather and travel tips.
Weather in Mykonos in December
Mykonos in December is a far cry from the bustling summer paradise it's known for. The island has a mild Mediterranean climate during this month, which means it gets colder and gets less sunlight.
The Average Daily Temperature in December Compared to Other Month
Temperature ranges from 46°F (8°C) at low to 55°F (13°C) at high. This November temperature is around 39°F (4°C) cooler than usual.
Average Rainfall in Mykonos
December is one of the wettest months in Mykonos, averaging 13 rainy days. Although it is not constantly abundant, rain is something that can be expected on sometimes.
Sunshine in Mykonos
Days are shorter in December, with around 5 to 6 hours of daylight. This limited sunlight offers a unique charm to Mykonos, as you can explore the island's beauty without the sweltering sun and the crowds that come with the summer months.
Read Also: 10 Best Seaside Towns UK
Things to Do in Mykonos in December
In the under section, we have listed a few things you can do in Mykonos:
Explore the Chora and Visit the Windmills
Mykonos' main town, Chora, is a picturesque maze of narrow streets, white-washed buildings, and charming shops and cafes. In December, you can explore this charming town without the overwhelming crowds that often fill its streets during the summer. The iconic windmills of Mykonos are a must-see attraction. In December, you can visit these historic structures without the tourist crowds and capture some stunning photos against the backdrop of the island's serene sites.
Delve into History
Take advantage of the quieter months to explore the island's rich history. Visit the Archaeological Museum of Mykonos to learn about the island's ancient past and the Mykonos Folklore Museum for a glimpse into its cultural heritage. Mykonos in December is ideal for relaxation and rejuvenation. Consider booking a spa day or yoga retreat to fully unwind and recharge.
Enjoy Local Food
Taste the delicious Greek cuisine at local restaurants. Savor traditional dishes like moussaka, souvlaki, and fresh seafood without the rush of the high season. You can receive completely home-cooked meals with a personal touch from several places. For those who love the great outdoors, Mykonos offers some fantastic hiking and bike routes. December's mild weather is perfect for exploring the island's natural beauty and delicious food, with trails like the Agios Sostis trail leading you to breathtaking viewpoints.
Read Also: 14 Best Places to Camp Around the World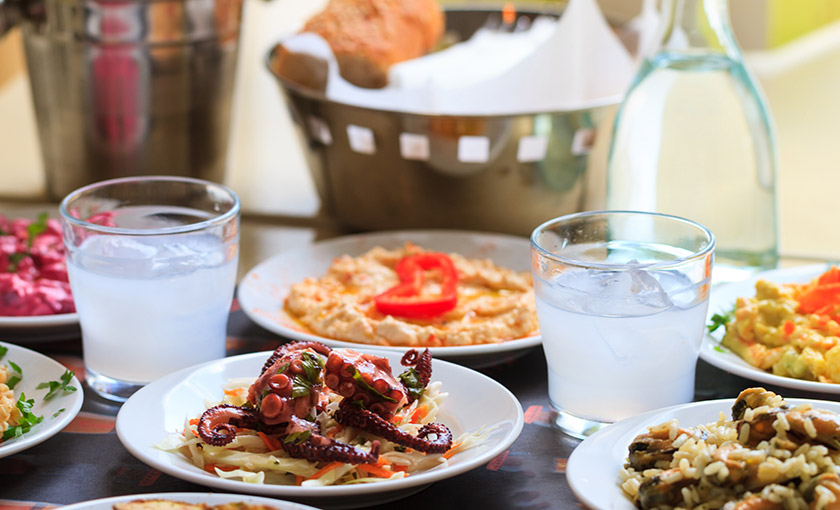 Travel Tips for Mykonos in December
December is a less popular month to visit Mykonos, so it takes some preparation. The following advice will help you get the most out of your winter vacation to this stunning island:
Accommodation
Many hotels and resorts on Mykonos close for the winter season. It's essential to book your accommodation well in advance and check if the chosen place offers heating for those cool winter nights.
Flights
Flights to Mykonos are less frequent during the off-season, so make sure to plan your travel itinerary accordingly. Additionally, check for any seasonal discounts that airlines may offer during this time.
Transportation
While many tourist services may be limited, the island's public transportation remains operational. You can explore the island using buses or rent a car to have more flexibility in your travel plans.
Local Services
During the off-season, certain restaurants, marketing stores, and other services could close or operate with shortened hours. To prevent any hassles, it's a good idea to confirm the availability and operating hours in advance.
Currency
Make sure you have enough cash on hand because not all ATMs will be open during the wintertime. Having cash on hand might be useful, especially for smaller enterprises, even though credit cards are still commonly accepted.
Plan for Rain
Pack waterproof clothing and appropriate footwear for the occasional rain. Don't let the weather stop you from enjoying yourself and visiting the island.
Enjoy the Serenity
Mykonos in December is a peaceful and serene destination. Embrace the serenity and use it as an opportunity to unwind, reflect, and enjoy a more intimate experience with the island's culture and beauty.
Pack Your Jackets
When packing for a December trip to Mykonos, keep in mind that the weather will be cold and possibly damp. Pay attention to layers that are adaptable, such as light coats or jackets, long-sleeved shirts, and jumpers.
A Quick Summary
Visiting Mykonos in December is a unique and rewarding experience. The island's mild winter weather, reduced crowds, and peaceful ambiance make it an ideal destination for relaxation, exploration, and connecting with the local culture. While you may not be swimming in the Aegean Sea or dancing the night away, Mykonos in December offers a different kind of magic, one that allows you to appreciate its history, natural beauty, and authentic Greek charm without the summer hustle and bustle. So, if you're looking for an enchanting winter getaway, Mykonos in December might just be the perfect choice.