California's Pacific Coast city of San Diego is well-known for its parks, beaches, and pleasant weather. This is the place where people mostly enjoy hiking and spend their vacations. This place is best for hiking whether you just want to travel on your bike and cycle. San Diego, with its varied terrain that includes untamed canyons, and verdant woods, is a haven for adventure enthusiasts. You're in for a treat if you love to walk and are considering a trip to this seaside treasure in 2024. There are several hiking opportunities in San Diego to suit all skill levels. In this blog post, we have mentioned the best hikes near San Diego to try in 2024.
Best Hikes Near San Diego to Try in 2024
Below, we have mentioned the best hikes near San Diego to try in 2024:
Torrey Pines State Natural Reserve
Cowles Mountain
Iron Mountain Trail
Potato Chip Rock
Los Penasquitos Canyon Preserve
Anza-Borrego Desert State Park
Sunset Cliffs Natural Park
Palm Canyon Trail in Borrego Springs
Hollenbeck Canyon Wildlife Area
San Elijo Lagoon Ecological Reserve
San Diego River Trail
1- Torrey Pines State Natural Reserve
Starting our list with one of the most iconic hiking destinations in San Diego, Torrey Pines State Natural Reserve offers stunning coastal views, unique plant life, and varying trail difficulties. The Guy Fleming Trail is perfect for a short, easy stroll, while the Beach Trail is more challenging and provides access to the beautiful Torrey Pines State Beach. The reserve is renowned for its rare Torrey pine trees, which only grow here and on Santa Rosa Island, making it a must-visit location for nature enthusiasts.
2- Cowles Mountain
Cowles Mountain is well-liked by both residents and tourists. Standing at the pinnacle of San Diego, it offers expansive vistas over the city and its environs. Though the main route is short, it's steep, so be ready for a strenuous exercise. Arrive early to beat the crowds and enjoy the sunrise because it can get congested. The feeling of accomplishment and the views from the summit are well worth the effort.
Read Also: 10 Incredible Hikes Near Portland: A Comprehensive Hiking Guide
3- Iron Mountain Trail
Iron Mountain Trail is an excellent option if you want a strenuous hike with breathtaking views. This Poway walk takes you through a mountainous landscape with wildflowers and chaparral. The journey to the summit is demanding, but the 360-degree views of the surrounding hills, mountains, and Lake Poway are incredibly rewarding.
4- Potato Chip Rock
Potato Chip Rock, located on the Mount Woodson Trail, is one of the most Instagram-worthy spots in the San Diego area. The hike to Potato Chip Rock is moderately strenuous, but the photo opportunity at the top, where you can appear to be dangling off the edge of this unique rock formation, is worth it. Plan for a longer hike (around 7 miles round trip) and be prepared for a wait to get your picture taken on the iconic "chip."
5- Los Penasquitos Canyon Preserve
Los Penasquitos Canyon Preserve is an oasis of green in the midst of urban San Diego. The main trail is an easy, flat hike that takes you through a lush, riparian canyon. Along the way, you'll encounter a waterfall and a historic adobe ranch house. This hike is perfect for families and nature lovers, offering a chance to spot local wildlife and birdwatch.
6- Anza-Borrego Desert State Park
If you're up for an adventure into the desert, Anza-Borrego Desert State Park is the place to go. The park features a wide variety of desert landscapes, from badlands and slot canyons to palm oases. The park's diverse trails cater to hikers of all levels. Spring is the best time to visit when the desert wildflowers are in full bloom, creating a breathtaking display of color.
7- Sunset Cliffs Natural Park
For a more relaxed hike with stunning coastal views, head to Sunset Cliffs Natural Park. This park offers a series of trails along the cliffs above the Pacific Ocean. It's an ideal spot to watch the sunset, hence the name, and take in the serene beauty of the coastline.
8- Palm Canyon Trail in Borrego Springs
The Palm Canyon Trail is a charming trail that leads you into a palm oasis and is situated in the center of the Anza-Borrego Desert State Park. The trail meanders through a rugged canyon, and a verdant grove of California fan palms awaits you as you near the finish. This hike is especially magical at sunrise or sunset.
9- Hollenbeck Canyon Wildlife Area
If you're interested in birdwatching and wildlife spotting, Hollenbeck Canyon Wildlife Area is a fantastic option. Located in Jamul, this preserve offers multiple trails through grasslands, oak woodlands, and riparian habitats. Keep an eye out for various bird species, deer, and other wildlife while enjoying the tranquil natural surroundings.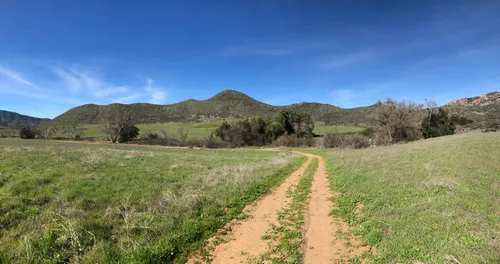 10- San Elijo Lagoon Ecological Reserve
San Elijo Lagoon Ecological Reserve is a great place to take a leisurely stroll over coastal estuaries and wetlands. Numerous bird species as well as other wildlife can be seen in the reserve. You can stroll along the network of pathways and take in the breathtaking views of the ocean and lagoon. This is a great option for those who prefer a more relaxed, nature-focused hike.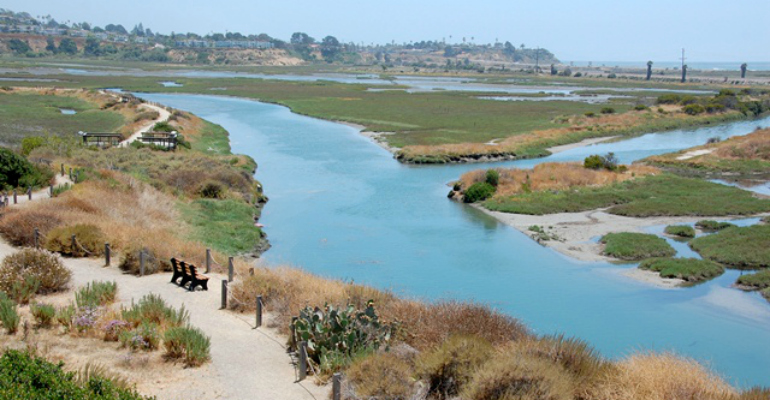 11- San Diego River Trail
The San Diego River Trail offers a unique urban hiking experience. The route offers a blend of urban and natural environments as it follows the San Diego River through different parts of the city. Select the route segment that best fits your needs and interests, and take in the peace and quiet of the river while being near the city's conveniences.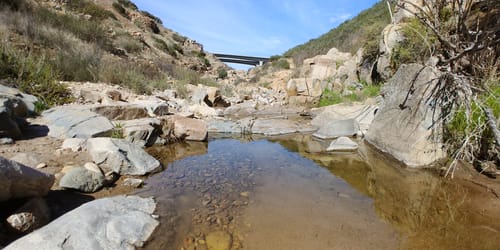 Travel Precautions When Visiting San Deigo
Recall that it's critical to exercise caution when hiking in the San Diego region: Always carry enough water to stay hydrated.
Wear sunscreen and a hat, especially on sunny days.
Inform someone about your hiking plans and expected return time.
Check the trail conditions and weather before heading out.
Respect the environment by staying on designated trails and packing out all trash.
The Bottom Line
You can be guaranteed an amazing outdoor experience in 2024 with these breathtaking hiking options close to San Diego. Put on your hiking boots, gather your belongings, and discover the varied splendor that this area of Southern California has to offer. San Diego offers hiking paths for all types of hikers, whether you're searching for seaside views, waterfalls, or desert exploration. Savor the adventure and the amazing vistas that these amazing hikes have to offer.