Spain is a country well known for its delicious food, vibrant culture, and rich history. Spain has a rich and diverse culinary history, which is showcased all year long at several food festivals featuring dishes like tapas and paella. These celebrations provide an exceptional chance to experience the cuisine of the area, taste local specialties, and see the enthusiasm that Spaniards have for food.
The best food festivals in Spain are covered in this blog post.
Best Food Festivals in Spain
In the under section, we have mentioned the 9 best food festivals in Spain:
1. La Tomatina – Bunol, Valencia
We kick off our culinary journey in Bunol, a small town in the Valencian region, where the streets run red with ripe tomatoes during the annual La Tomatina festival. Held on the last Wednesday in August, La Tomatina is the world's largest food fight. Thousands of participants engage in a massive tomato battle, turning the town into a sea of red. While the festival itself may not be about eating, the abundance of tomatoes and the lively atmosphere make it a unique and unforgettable experience.
Read Also: 14 Best Places to Camp Around the World
2. Calcotada – Valls, Catalonia
In Catalonia, the arrival of spring is celebrated with the Calcotada festival in the town of Valls. Calcots, a type of green onion, are roasted over an open flame until they are tender and smoky. They are then dipped into a savory romesco sauce and devoured by the dozen. Calcotadas are communal affairs, with friends and family gathering to enjoy the messy but delicious feast. The highlight of the festival is the "calcot king" contest, where participants compete to see who can consume the most calçots.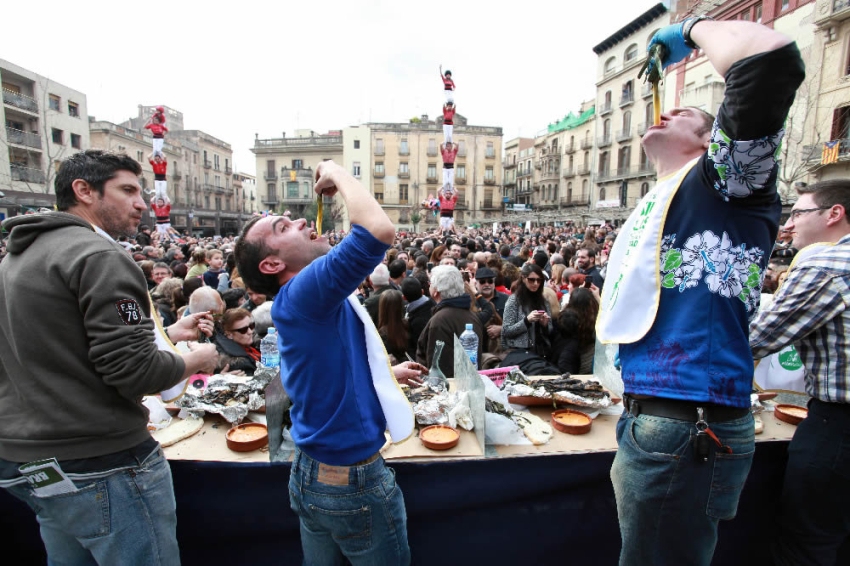 3. La Ruta del Atun – Zahara de los Atunes, Andalusia
Spain's southern coast is famous for its seafood, and the La Ruta del Atun festival in Zahara de los Atunes is a seafood lover's dream. This May celebration honors the bluefin tuna's arrival along Andalusia's coast. From sashimi to grilled steaks, the many tuna-based dishes that local eateries and pubs serve are a testament to their inventive culinary skills. Take advantage of this wonderful chance to discover the Andalusian coast while savoring succulent seafood.
4. Fiesta de la Matanza – Manganeses de la Polvorosa, Zamora
The Fiesta de la Matanza in Manganeses de la Polvorosa is a traditional Spanish festival that celebrates the age-old practice of butchering and preserving pork. It offers a fascinating look into the nation's culinary past and is held every February. You may see how a pig is turned into a variety of goods, such as blood sausages, lard, and sausages, during the festival. It's an event that connects Spain's rural traditions with its culinary history.
5. La Feria del Queso – Trujillo, Extremadura
La Feria del Queso in Trujillo, Extremadura, is a must-visit if you love cheese. This cheese festival, which takes place in May, features some of the best Spanish cheeses from all throughout the nation. A large range of cheeses, including aged Manchego and velvety goat's cheese, are available for sampling. There will be cheese-making demonstrations during the event, and local experts will be available to teach you about the craft.
6. Fiesta de la Vendimia – Jerez de la Frontera, Andalusia
Spain is well known for its wines, and the Andalusian grape harvest is celebrated in Jerez de la Frontera's Fiesta de la Vendimia. Early September sees the event, which includes flamenco performances, traditional grape-stomping, and an extensive selection of sherry wines. You can tour the local bodegas (wineries), sample different types of sherry, and gain insight into the intricate winemaking process. It's a perfect opportunity to experience the heart of Spanish wine culture.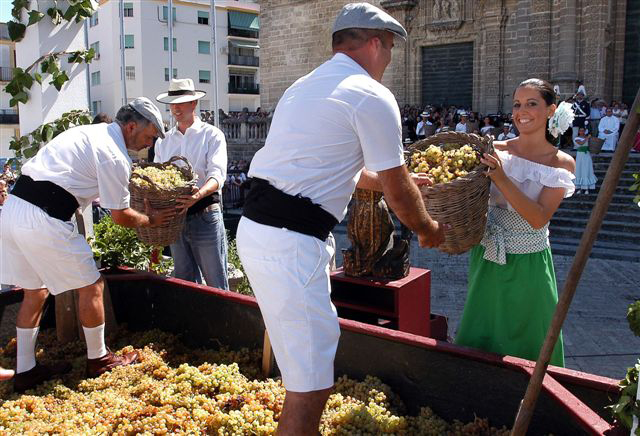 7. Mercat de Mercats – Barcelona, Catalonia
For a modern and cosmopolitan food festival, head to Barcelona's Mercat de Mercats, which typically takes place in October. This three-day event transforms the city's famous Mercat de Sant Josep de la Boqueria (La Boqueria) into a bustling culinary fair. Top chefs, local producers, and passionate foodies gather to celebrate Catalonia's gastronomy. You can sample a wide variety of dishes, from Catalan classics to innovative creations, and even participate in cooking workshops. Mercat de Mercats is the place to explore the vibrant food scene of Barcelona.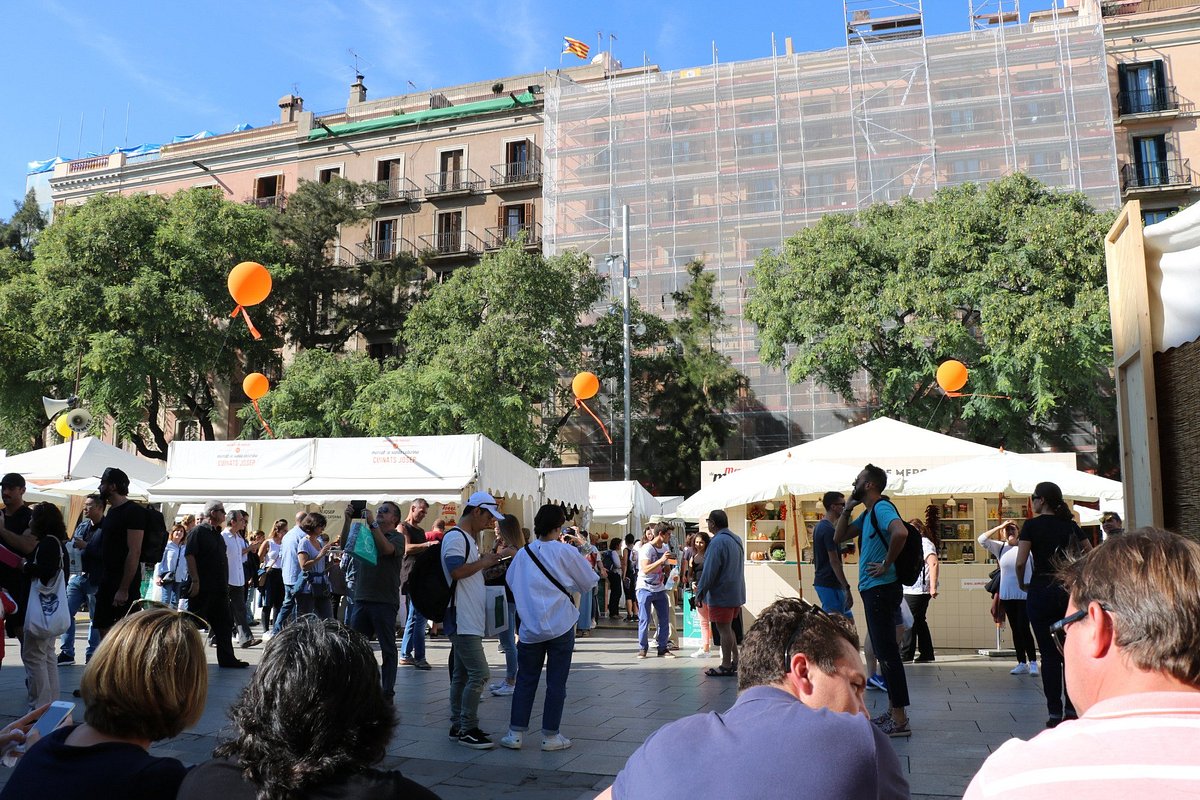 8. Feria del Jamón – Aracena, Andalusia
Spain's love affair with cured ham is well-known, and there's no better place to experience it than at the Feria del Jamon in Aracena. Held in September, this festival pays homage to the world-famous jamon iberico from the Sierra de Aracena. Visitors can indulge in tastings, watch carving demonstrations, and gain a deeper understanding of the complex process of curing ham. The festival also features traditional music and dance, making it a lively celebration of Spanish culture.
9. Festa de la Calcotada – Vilafranca del Penedes, Catalonia
Our culinary journey concludes in Vilafranca del Penedes, where the Festa de la Calcotada takes place in January. This festival celebrates calcots, a type of sweet spring onion similar to calçots. The calcots are grilled over open flames and served with a rich and nutty romesco sauce. The festival features calcot-eating contests, traditional Catalan music, and dances. It's a wonderful way to experience the Catalan culture and cuisine, even in the midst of winter.
The Bottom Line
Spain's food festivals serve as a monument to its love of fine dining and companionship, as well as its extensive culinary heritage. These festivals, which feature events like cheese tastings and tomato fights, provide a singular setting for experiencing Spanish culture and the delectable tastes of the Iberian Peninsula. If you're a foodie or just searching for an enjoyable and unique experience, think about scheduling your vacation to take place during one of these nine outstanding culinary festivals in Spain. Your palate will appreciate it, and you'll have enduring recollections of delicious Spanish food.